Solids Handling Pumps
Cornell offers a wide range of solids handling pumps, from 1.25″ though 30″ discharge size, to handle the most difficult solids applications. Cornell's solids handling pumps can be found in a wide range of applications in the Municipal, Agricultural, and Industrial markets; and available in a variety of mounting configurations including close-coupled, SAE engine, horizontal, and vertical mounted. Featuring enclosed, semi-open, and delta impellers, and a variety of construction materials, Cornell solids handling pumps operate up to 40,000 GPM. Cornell Solids handling pumps feature the Cornell designed heavy duty bearing frame. Look for the distinctive appearance of the angular, muscular frame, to know it's a high quality Cornell pump.
N-Series Solids Handling Pumps
Cornell's N-series solids handling pumps are available in discharge sizes from 1.25″ to 30″, and are designed to handle difficult solids handling applications. A range of mounting configurations are available, from close-coupled, SAE engine-mount, and horizontal frame-mount, to vertical and vertical coupled.  Featuring enclosed impeller (2" to 10" solids, and flows up 40,000GPM), N-series can also be fitted with a delta impeller to handle stringy materials, rags, etc. Robust and reliable, the N-series has more than 30 years of service as a waste-water handling favorite of the industry.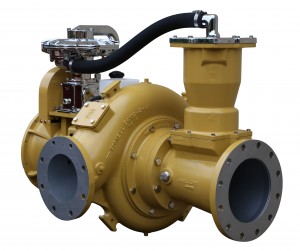 Add to Inquiry List